Asda becomes first British retailer to stock vertically grown salad in bid to improve sustainability
Posted on October 9, 2023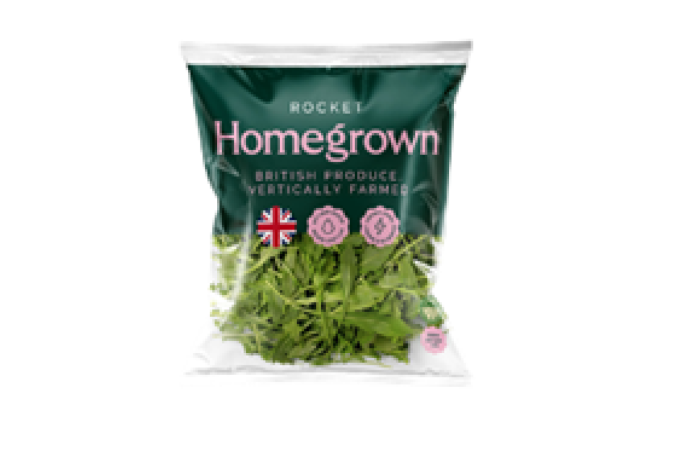 Asda has announced recently that it has become the first UK supermarket chain to stock a range of bagged salad nationally and online which has been grown in 'vertical farms,' which reduce the amount of energy and water needed to grow.
A new British salad range brand, Homegrown, is being launched in Asda this week. The range includes three SKUs: 80g Mixed Salad, 60g Rocket and 80g Hot & Peppery Cress.
Grown using 90% less water than traditional farming, and powered by 100% renewable energy, the products grown all year round in Gloucestershire will be available nationally online and in 270 Asda stores nationwide from Monday 4th September.
The plants are grown in trays, stacked vertically, and are exposed to optimum growing conditions. They are fed nutrient-rich solutions, and by using temperature control and artificial lighting Homegrown can achieve year-round crop production while reducing water, chemicals used and land use.
Asda is continuously looking to offer its customers sustainable healthy options when they visit our stores and reduce its overall impact on the environment. Asda recently published its ESG (Environmental, Social and Governance) report for 2022, and this year marks 10 years of the Asda Supplier Sustainability Exchange, helping suppliers to share knowledge and improve their environmental impact.
Dom Edwards, Asda Produce Director said: "We're delighted to be the first British retailer supplying a vertically farmed bagged salad range at this kind of scale, enabling customers to buy nationally and online. As well as clear sustainability benefits, the salad leaves aren't subject to adverse weather – resulting in better availability and more consistent quality for our customers."
https://corporate.asda.com/newsroom/2023/09/06/asda-becomes-first-british-retailer-to-stock-vertically-grown-salad-in-bid-to-improve-sustainability
Back to news